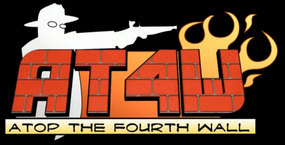 Atop the Fourth Wall is an Inked Reality webseries hosted by Lewis Lovhaug. He mostly reviews bad comic books and often goes into detail about the history of comics and why the comic in question is a bad one. He is also a huge fan of the Power Rangers franchise and has done material related to the subject on his show.
Comic Reviews
History Of Power Rangers
The History of Power Rangers is a special series of videos where Linkara does an in-depth analysis of each season of Power Rangers and gives his own opinions on each of them. Because of Linkara's scheduling of reviews, conventions and real life obligations, the series had no set schedule until 2014 due to fan demand and donations on his Paetreon Account reaching a certain mark. Because of this, episodes came out erratically often taking months in-between episodes. In his Wild Force review, Linkara explained the reason is because each episode is completed when he has enough free time to view an entire series, write notes, then edit and record the episodes.
Links
Ad blocker interference detected!
Wikia is a free-to-use site that makes money from advertising. We have a modified experience for viewers using ad blockers

Wikia is not accessible if you've made further modifications. Remove the custom ad blocker rule(s) and the page will load as expected.