Chinami Takahara

Black Beat

Gender:
Female
Date of Birth:
October 13
Age:
30
Season:
Euro Sentai Beatranger
Colors:
Black
Homeworld:
Earth
First Appearance:
????
Last Appearance:
????
Number of Episode
Appearances:
##

Actor:

Black Beat
"Conquering the Night! Black Beat!"
Chinami Takahara (髙原 千奈美 Takahara Chinami) is the black Beatranger, known as Black Beat, and a veteran dispatcher and training instructor. She wields power gained from Horror Resonance.
History
(to be added)
Personality
Chinami is the oldest and generally most mature of the group, though she has a flair for the dramatic. She seems to become disappointed at trivial things.
Powers
Black Beat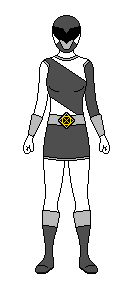 As Black Beat, Chinami has enhanced strength, a protective suit, and resistance to most hostile resonance, as well as the ability to blend into shadows. She can summon the Euro Stingers, a set of black throwing knives, as her personal weapon.
Ad blocker interference detected!
Wikia is a free-to-use site that makes money from advertising. We have a modified experience for viewers using ad blockers

Wikia is not accessible if you've made further modifications. Remove the custom ad blocker rule(s) and the page will load as expected.