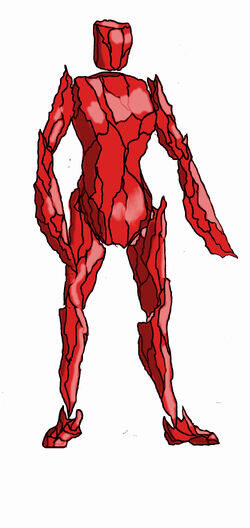 Jewel Golems
are foot soldiers working for the
Zodiac Emperors
.
Description
Jewel Golems are created by any Zodiac Emperor from the birthstones associated with each, which the Emperors have power over. They are seven feet tall, made of roughly hewn gemstones segmented together, and have weapons for arms. >Lacking mouths, they cannot talk, nor are they sentient. When destroyed, they collapse into tiny bits of jewels.
Subtypes
Aquarius
Garnet-based Jewel Golems.
Pisces
Amethyst-based Jewel Golems.
Aries
Bloodstone-based Jewel Golems with blades for forearms. These were the first to be sent to Earth, attacking NASADA, but the Rangers were able to defeat them.
Taurus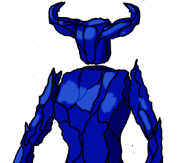 Sapphire-based Jewel Golems with horns, created and controlled by Taurus. These were used to delay the Rangers while
Cark
and
Spinhead
tunneled for the Zord hangar. Later, a squad of these attacked Tommy as he entered town, kidnapping him and delivering him to
Valkyrie
to take back to the 
Equinox
.
Gemini
Agate-based Jewel Golems which have the ability to disguise themselves with illusions. These attacked Lidian in the mountains, breaking several of his bones in the attack before they were stopped by the Gemini Rangers before the other Zeo Rangers had even arrived.
Cancer
Emerald-based Jewel Golems with pincers for forearms.
Leo
Onyx-based Jewel Golems.
Virgo
Carnelian-based Jewel Golems.
Libra
Green peridot-based Jewel Golems. These have discs for hands, which they can shoot out at enemies, or draw back in with the attached cords.
Scorpio
Beryl-based Jewel Golems.
Sagittarius
Topaz-based Jewel Golems.
Capricorn
Ruby-based Jewel Golems.
Trivia
The original foot soldiers were Asteroidites, rocky brown creatures streaked through with fiery red veins that never made a sound.